26.06.2017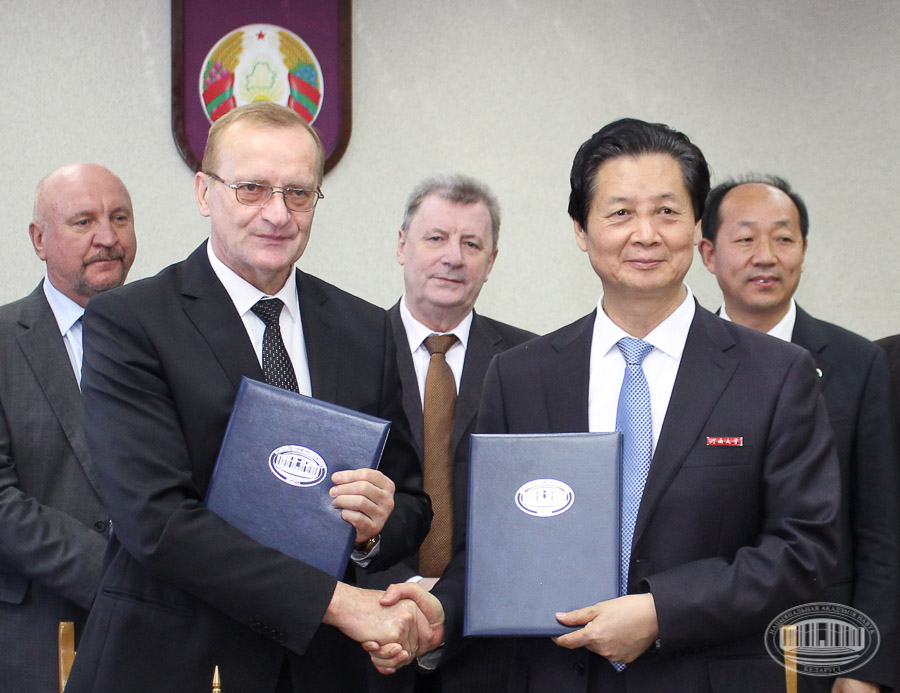 On June 26 2017, the Cooperation Agreement between the National Academy of Sciences of Belarus and Henan University (PRC) was signed by Academician
Vladimir G. Gusakov
, Chairman of the NASB Presidium, and Professor
Lou Yuangong
, President of
Henan University
.
Chairman of the NASB Presidium Vladimir Gusakov emphasized at the signing ceremony: "This important document will become the basis for uniting the efforts of Belarusian and Chinese scientists to achieve significant scientific results."
The cooperation agreement between the National Academy of Sciences of Belarus and Henan University aims at establishing strategic cooperation in order to explore socio-cultural and economic problems of implementing Belt and Road Initiative.
The cooperation between Belarusian and Chinese scientists will be undertaken through the organization and conducting joint educational events and scientific research of various aspects of the development of the economic belt of the silk road in the Eastern European region; holding joint conferences, seminars, summer schools, round tables for scientists, teachers, undergraduates, graduate students and students; organization of joint training of graduate students (doctoral students); internships academic specialists of both sides, as well as training and advanced training of scientific-pedagogical staff; joint educational and publishing projects; exchange of scientific and scientific- methodological literature; mutual publication of scientific articles in scientific editions of the Parties. The term of the Agreement is 5 years from the date of signing. During the negotiations on promising areas of cooperation the leadership of the National Academy of Sciences and Henan University agreed to prepare a list of joint scientific projects on areas of cooperation of mutual interest. Among them are projects in the humanities, new materials, mechanical engineering, nanotechnology.