17.12.2018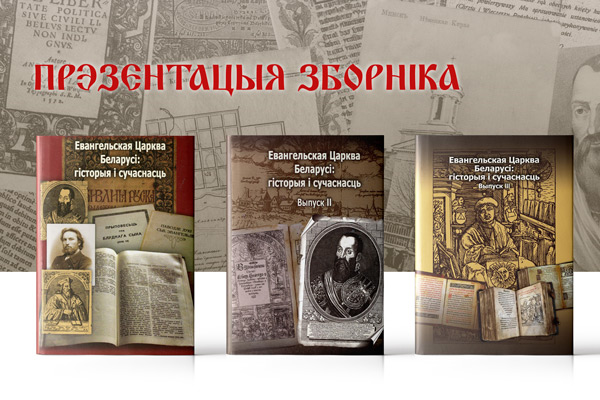 Yakub Kolas Central Scientific Library of the NAS of Belarus invites to a presentation of the digest of articles
The Evangelical Church of Belarus: Past and Present
(Issues 1-3), which will be held on 18 December 2018, at 3:00 p.m.
The digest has been published since 2014. To date, there are three volumes of materials issued in 2014, 2016 and 2018, which reflect the history of Belarusian and Western European Protestantism. The third one is the outcome of the Third International Scientific and Practical Conference "The Evangelical Church of Belarus: Past and Present" (Minsk, 9 December 2017), which was dedicated to the 500th anniversary of the Reformation and the 500th anniversary of the Belarusian Bible. Both of these anniversaries were widely celebrated in Belarus throughout 2017.
The books highlight important pages of the history of the Belarusian and European Reformation, as well as of the Protestant churches in Belarus, provide information on F. Skaryna's Bible. Both biographical research and panoramic historical reviews of certain periods in the history of Protestantism are available in the digest. The issues of interfaith relations, connections between the Protestants and the Belarusian national movement, development of Protestant Churches in modern Belarus, etc. have been touched upon.
An exhibition of books from the holdings of Yakub Kolas Central Scientific Library of the National Academy of Sciences of Belarus is timed to the event. It presents some lifetime editions by M. Luther and F. Melanchthon; a theological work by a little-known Protestant writer Nicolas Selnecher from Leipzig; works by Erasmus of Rotterdam; Martin Luther Bible (1675), and other editions.
Anyone interested is welcome.