28.06.2017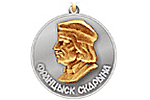 Belarus President Alexander Lukashenko has signed Decree № 218 to present state awards to 58 people. Representatives of various professions received orders and medals in recognition of the many-years productive work, exemplary fulfillment of service duties, significant personal contribution to the creation of the Belarusian space system for the remote Earth sensing, development of the construction industry and production of building materials, Belarusian printing, art, culture and architecture, great achievements in communications, scientific research and training of highly qualified specialists. Medal of Francysk Skaryna was conferred on deputy director of the Republican Unitary Enterprise "Publishing house "Belaruskaya Navuka"
Stanislav Nichiporovich
; deputy director on scientific work of the State Scientific Institution "Institute of Microbiology of the National Academy of Sciences of Belarus"
Natalia Sverchkova
; head of the department of rare books and manuscripts of the State Institution "The Yakub Kolas Central Scientific Library of the National Academy of Sciences of Belarus"
Aleksandr Stefanovich
; director of the executive directorate of the Belarusian Republican Fund of Fundamental Research
Sergey Gaponenk
o.