06.09.2018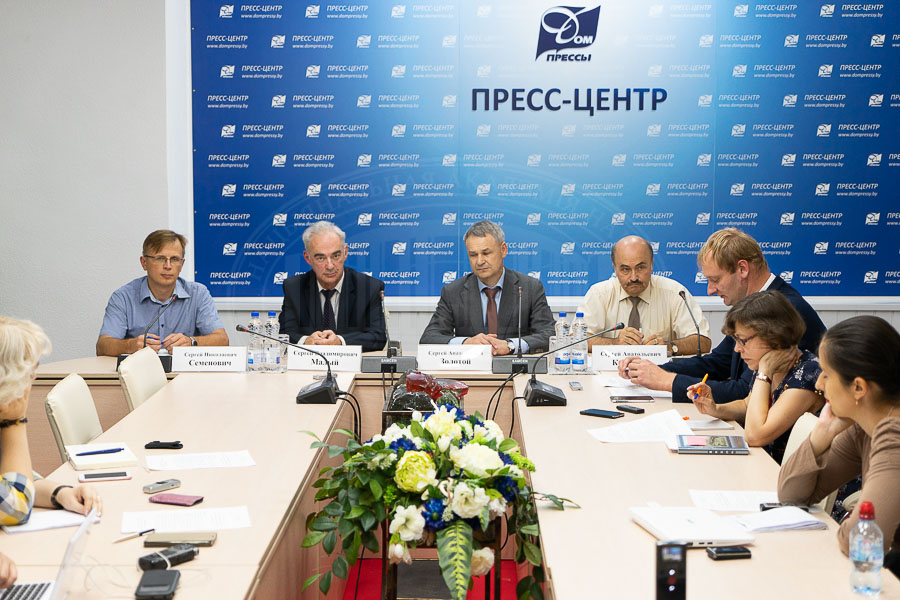 On 6 September 2018, a press conference "Towards the 31st International Congress of the Association of Space Explorers. Developments of Belarusian scientists in the field of space technologies" was held at the Press Center of the Press House. The National Academy of Sciences of Belarus was presented at the event by Sergei Zolotoy, Director of the Scientific-Engineering Enterprise "Geoinformation Systems" of the National Academy of Sciences of Belarus, chief designer of the Belarusian space system for Earth remote sensing; Sergei Korenyako, Executive Director of the Belarusian-Russian space program "Monitoring-SG", head of the Department of space and information technologies at the United Institute of Informatics Problems".
Sergei Zolotoy told reporters about the goals and activities of the forthcoming 31st ASE International Congress. At the moment, 82 cosmonauts from almost all space powers of the world have registered for the Congress. On the first day of the Congress, an exhibition is planned to show the achievements of the Republic of Belarus in the space sphere: Earth exploration technologies from space – various remote sensing devices, communication and television systems, and navigation systems. To ensure the development of these areas in the country there are more than twenty research and production teams that produce equipment, software, develop appropriate technologies that will be presented at the exhibition.
The main purpose of the Congress is to introduce the younger generation both the complexities of space professions and their romance, Sergei Zolotoy noted. To this end, on 12 September, it is planned to hold a Community Day, where Congress participants will meet with schoolchildren and students.
Sergei Korenyako introduced journalists to the history of participation of Belarusian scientists in the Soviet scientific program, and also spoke about joint Belarusian-Russian programs in the field of space research at the present stage. To date, six joint space programs have been implemented, which allowed to preserve and restore the scientific and technical cooperation that existed between the organizations of Belarus and Russia.
Representatives of the National Academy of Sciences of Belarus also answered numerous questions of journalists about the forthcoming Congress and space research in Belarus.